I got some suggestions to try a peanut butter sauce for dinner. So I did a little research and found a couple of recipes that looked good. I ended up choosing to modify
this Spicy Peanut Chicken
recipe because it called for chow mein noodles and I had some I wanted to use up.
Doesn't it look yummy? Too bad mine didn't end up looking so pretty.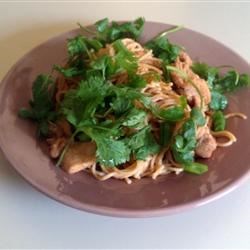 Ingredients
1 1/2 tsp curry powder
2 Tbsp Thai chili garlic sauce, or to taste
1 1/2 tsp ground cayenne pepper, or to taste
1/2 tsp ground cinnamon
2 tsp soy sauce
1/2 pound uncooked spaghetti
1 Tbsp peanut oil
2 large boneless, skinless chicken breast halves, cut into 1 - inch cubes
3 1/2 c. water
2 cups extra chunky peanut butter
4 green onions, chopped
1/2 cup chow mein noodles
All the comments for this recipe talked about how spicy it was. We tend to prefer less spiciness in our meals so I halved the cayenne and left the chili garlic sauce out entirely. I also used creamy instead of chunky peanut butter because I have to use up creamy.
The kids liked it OK but I didn't like it at all. I don't usually care for Thai food or nuts (though I like peanut butter), and this dish was what I expected. DH liked it well enough though and there was so much sauce left over I cooked more noodles and made him some lunches for work.
I did not take photos because it really didn't look pretty. Imagine brown spaghetti with some green bits and crunchy chow mein on top.
I don't think I'll make it again unless DH requests it.
Katie