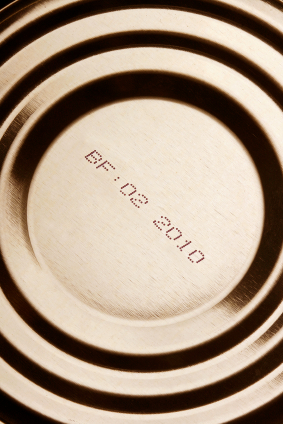 Now that the pantry has been thoroughly cleaned out I am left with a number of items we must eat very soon because they are
past their 'best by' date
. Luckily I've been using many of these items the last few months as part of the pantry challenge, but there are a few lingering things.
As I was cleaning out the pantry I also sorted & organized my spice cabinet. I had a good idea, if I do say so myself, while refilling several jars. I made a
list of "overstock" spices
and taped it to the inside door of the spice cabinet. I don't want to keep buying thyme, for goodness' sake! I have enough thyme to last a lifetime - how often do you use thyme anyway?
Another discovery in the spice cabinet were
seasoning packets
that are long past their 'best by' date, as well. Seriously, do spices even go bad when they're in airtight envelopes? I'm sure that's what I was thinking when I accepted expired spanish rice seasoning from my Grandma back in 2004 . . . and what compelled me to keep it when I moved to this house in 2007 . . . and what convinces me I can still use it even though it "expired" in
2002
. I hope to be inspiring and encouraging with this blog, but if nothing else I'm OK if you just feel better about yourself knowing you're not as bad as the
crazy lady
planning to use spices that expired 8 years ago.
I have lots of groceries just now and we'll be out of town a few days in the near future so here's the two week plan:
Monday - Chicken Milano with pasta (spice packet 4/2009)
Tuesday - Beef Enchiladas (Enchilada spice packet 7/2003)
Wednesday - Cheesy Chicken Casserole (cream of broccoli soup 6/2009)
Thursday - Stuffed Bell Peppers (spanish rice spice packet 3/2002)
Friday - Cranberry Chicken (cranberry sauce 4/2007)
Saturday - Fajitas (spanish rice spice packet 3/2002, fajita spice packet 9/2006)
Sunday/Monday - Leftovers for DH
Tuesday - Beef Stew (need to use up carrots & potatoes)
Wednesday - Sour Cream Chicken (chicken broth 4/2010)
Thurs/Fri/Sat - Out of town wedding
Sunday - Something from the freezer
Phew!
Katie